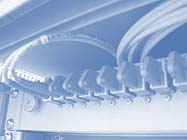 Our datacenters operated by parent company ISPpro Internet KG are connected via redundant fiber uplinks to the Internet. EUserv operates to its own European ring-network with POPs in Frankfurt, Erfurt, Jena, Berlin and Amsterdam.
The routing is via our own BGP4 autonomous system (ASN 35366) possible. Our network is IPv4 and IPv6 available upon request.
Technical data of network and uplink conncetions:
available bandwidth capacity: 350Gbps
count network nodes ie router, switches: 200+
selected hardware for core-router, switches and WDM: Cisco, Huawei, Ericsson
Cisco-edge switches with 2x 1Gbps uplink (100Mbps-ports), 4x 1Gbps or 2x 10Gbps (1Gbps ports)
24x7 working network monitoring and emergency team
Network connections and uplinks via:
NTT Europe
Cogent Communications
Versatel
Interroute
TNK
Colt
Public peerings at following locations:
DE-CIX (Frankfurt/Main, DE)
AMS-IX (Amsterdam, NL)
BCIX (Berlin, DE)
Kleyrex (Frankfurt, DE)
Private peerings at following locations:
Frankfurt/Main (DE)
Erfurt (DE)
Jena (DE)
Amsterdam (NL)
We currently maintain peerings with 1Gbps among others the following providers:
Telefonica Deutschland (DE)
PT Comunicacoes (PT)
AKAMAI (US)
HURRICANE (US)
UnitedColo (DE)
Primus Telecommunications (UK)
TNG (DE)
SWISSCOM (CH)
BIT (NL)
DIG (DE)
YAHOO (US)
FREENET (DE)
EIRCOM (IE)
LIMELIGHT (US)
RKOM (DE)
VIRGINRADIO (UK)
OVH (FR)
IKOULA (FR)
FREINET (DE)
RLP-NET (DE)
EUNETIP (FI)
HANSENET (DE)
NETSERVICES (UK)
INFORENT (DE)
OPENCARRIER (DE)
MANDA (DE)
INFOSTRADA (IT)
NETUSE (DE)
FINECOM (CH)
OSN (DE)
TNIB (DE)
EMIX (AE)
NETCOLOGNE (DE)
WVFIBER (US)
BEZEQINT (IL)
EUROACCESS (NL)
INIT7 (CH)
GTS-CE (CZ)
DIALTELECOM (SK)
TELEDATA (DE)
FIBRE1 (DE)
SUNRISE (CH)
OBIT (RU)
KMS (Cablesurf) (DE)
AS-TERRATRANSIT (DE)
AS-PTA (Telekom Austria TA AG) (AT)
LDCOMNET (Neuf Telecom) (FR)
Strato (DE)
DFN (DE)
Pfalzkom/MAnet (DE)
Panther Express (US)
WNet (UA)
HA-VEL (CZ)
COMNET (NL)
INEXIO (DE)
CORE-BACKBONE (DE)
EVOLVA TELECOM (RO)
EWETEL (DE)
OTEGLOBE (GR)
PCH.NET (US)
i3b (AT)
RTCOMM (RU)
FASTWEB (IT)
SAARGATE (DE)
ATMAN (PL)
GAMEFORGE (DE)
CDNETWORKS (KR)
Crowley Data Poland (PL)
WEDARE (NL)
eSolutions (LU)

EUserv is via the ISPpro Internet KG a Member of RIPE NCC and can therefore as LIR (Local Internet Registry) provide its customers additional IP services:
IP address assignment (single IP's or blocks)
Applying for and allocation of all subnets
Applying for and allocation of AS numbers

If you want your own private IP network on our server give us a call.