Winter-Edition 2017
Winter-Editon: Special Server Models with many Features and Services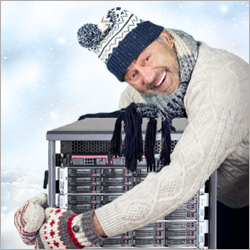 All of the dedicated "Winter Edition 2017" servers are exclusive specials of regular server series offered with many extras and beneficial services for a special price.
Theses servers are hosted in a German EUserv owned datacenter with redundant infrastructure and 1Gbit Internet connection. Besides 30 IP-Addresses for free the offer also contains 2000GByte Backupstorage and unlimited traffic.
Get your dedicated Server with Traffic-Flatrate and full Root-/Admin-Access.
Ordering rules
Each customer may order only up to one server "Winter Edition 2017" under one account. It can be combined with other specials.



There is only a limited number of servers. (if the servers are sold out, the special is prematurely terminated) Offer is valid until 21.3.2017.



Each server has to be paid for the entire contract period in advance by bank transfer or PayPal. Changes to maturity, prepayment period or hardware are not possible.



All servers are deployed within 3-5 days after payment. Once the server is out of stock, it can no longer be ordered using the order button.
Choose and Order Hardware Models of "Winter-Edition 2017"
CPU
Frequency
Cores
Virt.
RAM
HDD
Period
Monthly
Setup
No offers available.
Detail Features for dedicated Servers "Winter-Edition 2017"
| | |
| --- | --- |
| Edition-Name | Winter-Edition 2017 |
Network + Traffic
Network connection
1x 1 Gbit/s
Connection speed
200 Mbit/s ¹
Connection speed type
Guaranteed
Bandwidth
unmetered ¹
¹: All traffic usage is included and without further charge (flat fee). We do not cap connection speed. This means server has unlimited / unmetered bandwidth.
Services
| | |
| --- | --- |
| diskless remote Rescue-System | |
| vKVM | |
| Remote Reboot | |
| Free Reinstall | |
| Free OS-Change | |
| Reverse DNS | |
| FTP-Backup | 2000 GB |
| graphical Bandwidth Utilization | |
| /32 IPv4-Addresses | 30 |
| max. additional /32 IPv4-Addresses as extension (1 EUR je IP / mo) | 20 |
| /128 IPv6-Addresses | 30 |
| max. additional /128 IPv6-Addresses as extension (1 EUR je IP / mo) | 20 |
| IPv6-Subnet | 1x /64 |
| Live Monitoring System | |
| Failover-IP | Instant64 series required |
| Pro-Option | Prime64 series required |
Service Level + Garantien
| | |
| --- | --- |
| Hardware-Replacement | free |
| Network SLA | 99,00% p.a. |
Operating Systems
Linux
free*
BSD
free
Windows Server
2008R2 / 2012 / 2012R2
see Windows Server licence pricing:
2008R2 | 2012 | 2012R2
Own Windows Server licence
*) Additional licences may needed for full usage depending on selected OS or Admin-Panel. show all selectable OS
Help + Support
| | |
| --- | --- |
| Community support | |
| Documentation | |
| FAQ | |
| 24x7 Email support | |
| Phone support | - |
Contract + Termination
| | |
| --- | --- |
| Contract Term | 12 month |
| Contract renewal type | automatic |
| Payment Term | 12 month |
| Termination notice | 3 month |
Advantages & Benefits:
Price/Performance: affordable Price-Performance-Ratio

Additional Features: FTP-Backupspace, vKVM and RDNS free included

Deployment: fast commissioning, various operating systems available for automatic installation

Cost-Certainty: 200 Mbit unlimited / unmetered bandwidth

Optional Features: up to 50 IPv4/v6 addresses possible
Application examples:
Single Hostsystem for virtualization projects (e.g. dev/live deployments)

Hosting Server (e.g. for online-shops or database hosting)

Expansion or replacement server (e.g. additional server for existing deployments at EUserv)

External workgroupserver hosted in a German datacenter

Application Server (e.g. business Mailserver, Webserver or development environment)
*)**)***) All prices are included VAT depending on selected country, price tags are per month if not displayed different, additional one time setup fee may apply starting at 0,- EUR. Please watch full description, details and pricing of service. Contract term depends on ordered service from one month. Our terms and conditions obtain for every placed order. Technical data are subject to change. Errors excepted. Productnames, logos and trademarks reside in owner although if not separate marked.

Copyright © 1995, 1998, 2005-2023 EUserv Internet